China spe pem hydrogen meter for water h2 hydrogen water generator pem technology hydrogen water generator
ABS-FQ-01 1. LED display ,AS food grade material 2. 1000PPB high hydeogen concentration(ORP up to -700mv). 3. 0.5-1.5L water capacity, can use for whole family. 4. Can produce hydrogen+alkaline water at the same time.(Can add alkaline stone) 5. Hydrogen water also can use for clean our face, washing the fruits multifuctional usage 6. CE,SGS certificate.
Inquiry
Product Details

What is Hydrogen-rich Water?
Hundreds of medical studies around the word have shown that hydrogen water has many health benefits.
Studies have confirmed that consumption of hydrogen reduces oxidative stress in a diverse range of disorders and organ systems including the degestive, cardiovascular and respiratory systems. Hydrogen is known to be molecular hydrogen to be therapeutic. Even NASA is researching hydrogen water to be protect their astronauts from radiation during space travel.
PRODUCT HIGH LIGHT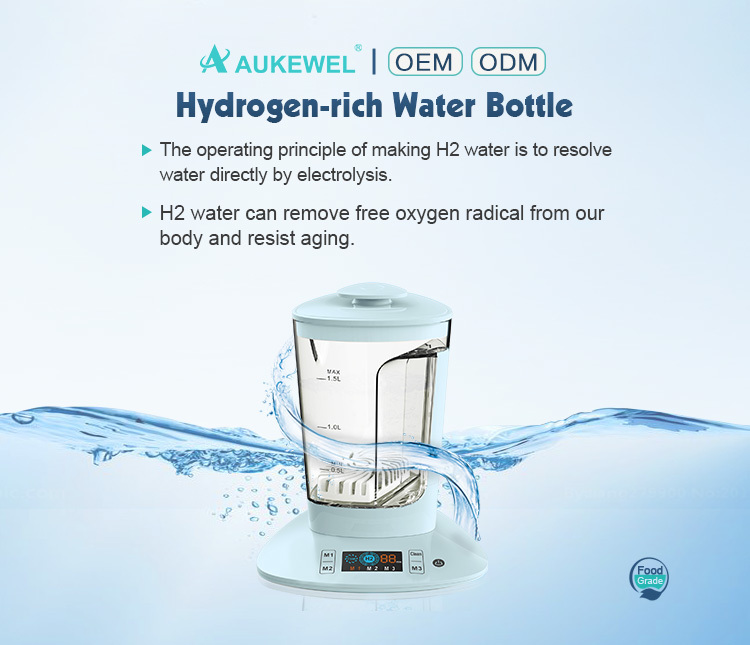 Certified

AUKEWEL brand Hydrogen water generator is with CE, FCC certificate.

Safe & Latest Technology
Two chamber 7-Layers system with Platinum PEM ( proton exchanging membrane ) and Platinum Titanium electrode.

Incomparable Performance

AUKEWEL brand hydrogen water generator dispenser, shows the most powerful performance, making hydrogen of 1000ppb in 10 mins.

Most suitable Capacity

1500ML is most suitable water capacity for whole family,Maxium 2000ml, in various occasion.

Best Design

Enjoy Health Drink together with family,office staff ect.
PRODUCT DESCRIPTION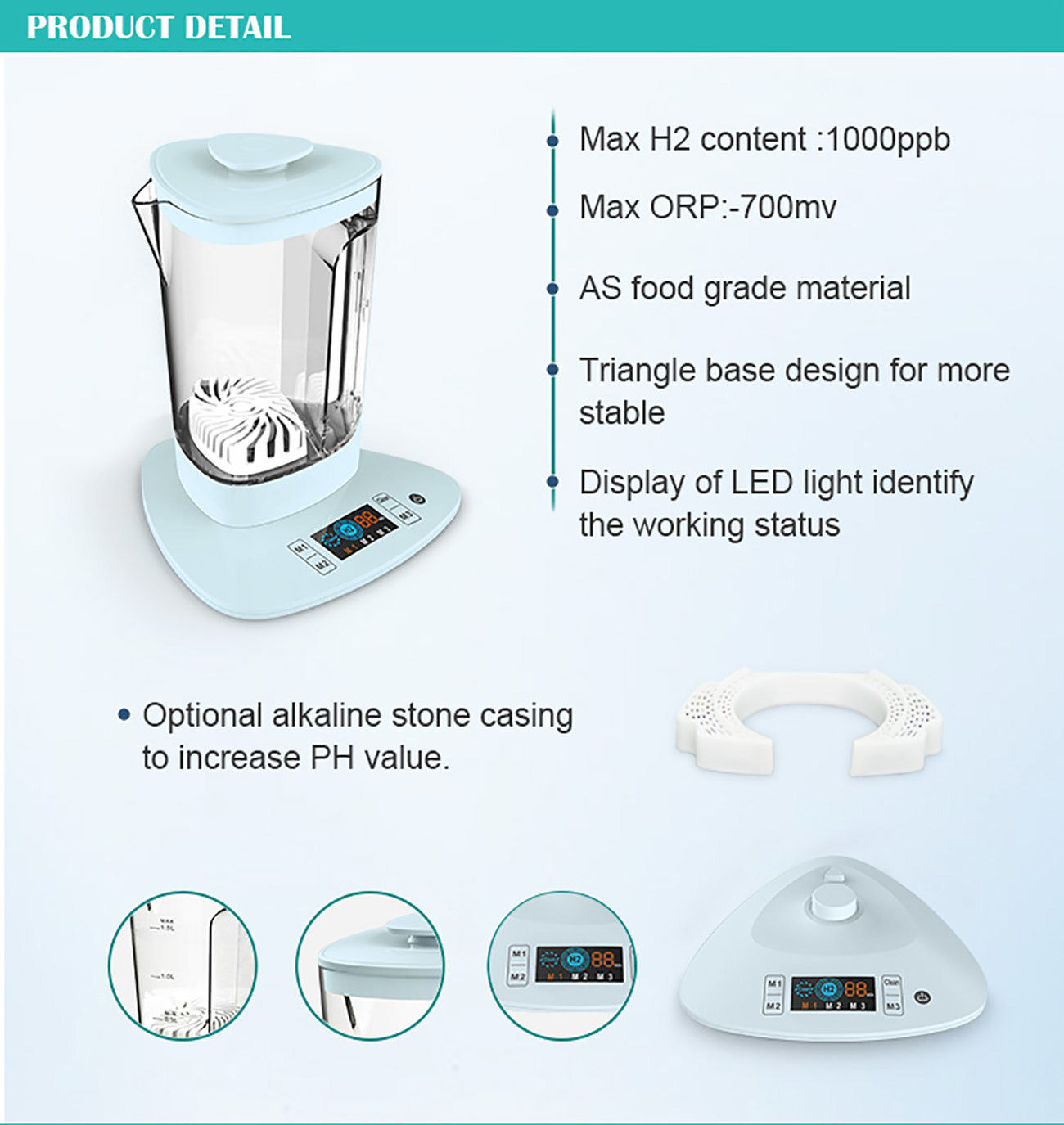 | | | | |
| --- | --- | --- | --- |
| Model No. | ABS-FQ-01 | OEM | Available(MOQ 1000PCS) |
| Name | Hydrogen Water Generator Dispenser | ODM | Available(Negotiable) |
| Function | Making Hydrogn healthy water to Improve health with continued Use | Power | Input:AC100-240V Output:USB5V / 2.0A |
| Advantage | Family Size/Alkaline optional /Lower Cost /Completely Safe/Super Light | POWER Source | AC with differen Adaptor |
| Maximum volume | 2000 ML(1500ml Standard) | Maximum output | 10W |
| Hydrogen concentration | 1ppm(1000PPB)/10Min | Water temperature | 0-60 degree C |
| Potential | '-600mv | Certificate Approved | CE FCC |
| PH Value | 7 | Lead Time | 1-100pcs,7 Days; Above 100pcs, 30Days |
| Cup materials | Food Grade AS/Platinum/PEM Membrane(Dupont USA) | Color | white /Black |
| Warranty | 1 year | Bottle Net weight | 1kg |
| Tech | SPE+PEM | Dispenser Size | 235*235*280mm |
| Brand | AUKEWEL /ANBOS | Pack | 4pcs/Ctn; 8.5Kg/CTN; 550*280*590mm |
WHAT IS CORE TECHNICAL DATA OF HYDROGEN WATER

Higher PPB means higher Tech, faster Effective.

AUKEWEL ABS-FQ-01 is 1000ppb/10min.

M1: 10MIN/1000ppb

M2:20MIN/1000ppb

M3:30MIN/1000ppb

WHAT IS SPECIAL FACILITY OF ABS-FQ-01?

AUKEWEL ABS-FQ-01 is with self-clean function, easy maintenance.

AUKEWEL ABS-FQ-01 is with alkaline stone as optional accessory to statify ALKALINE+HYDROGEN demand.

AUKEWEL ABS-FQ-01 is with 2000ML maximium, satisfy using hydrogen water to cook, make tea, make coffee, wash face ect.

PRODUCT TECH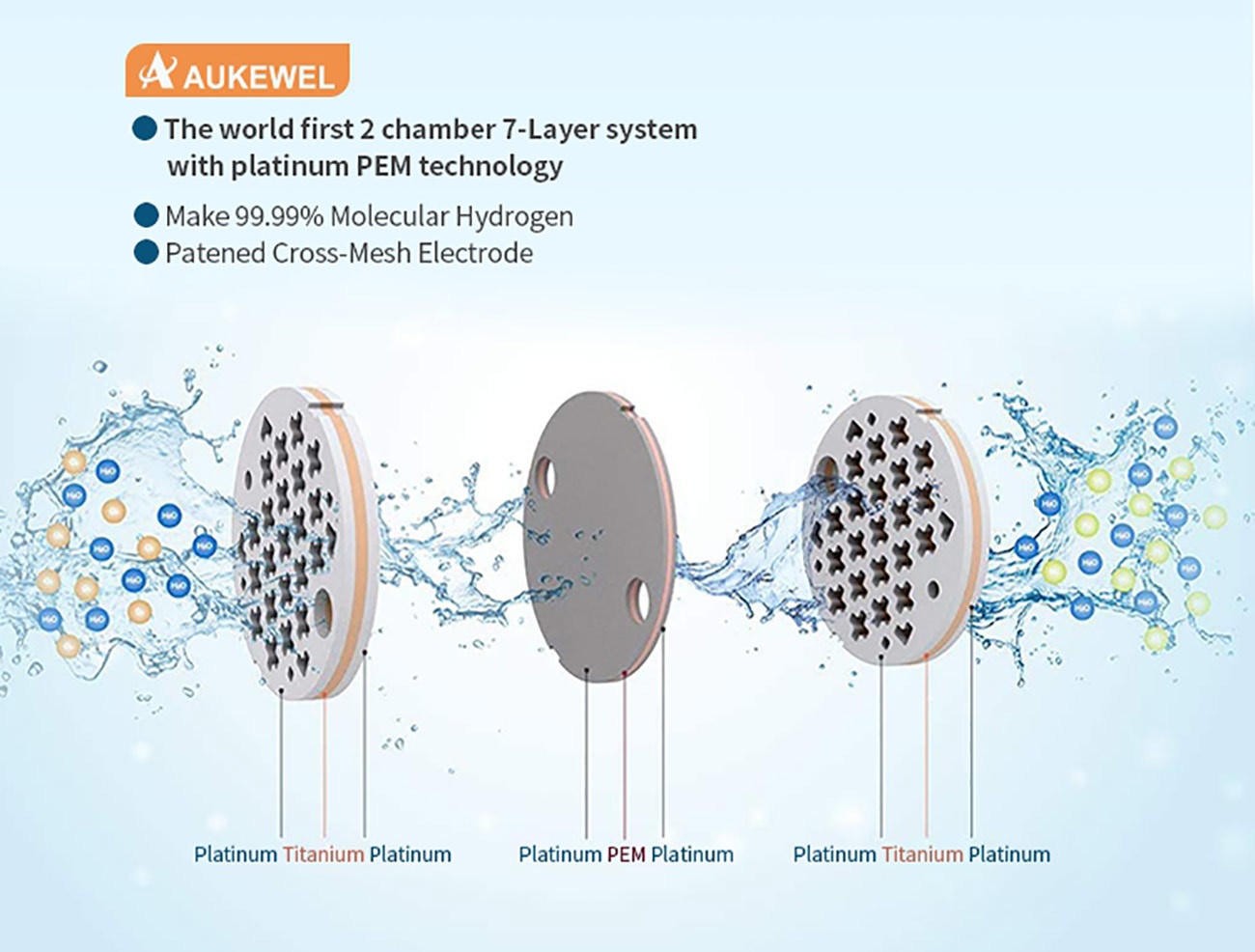 ADVANCED TECHNOLOGY

AUKEWEL HYDROGEN WATER MAKER with DUAL CHAMBER technology; This WATER IONIZER have state-of-the-art technology based on SPE(Solid Polymer Electrolysis) and uses PEM ionic membrane for maximum hydrogen retention(More 2hrs). You'll be left only with hydrogen rich water.
Great Meterial

Platinum Titanium Electrode, Platinum SPE PEM, BPA-Free AS CUP BODY. ABS CUP cover and bottom( Non-toxic).

Most safe during making hydrogen:

NO CHLORINE & O3 with oxygen gas exhaust vent on bottom
PRODUCT CERTIFICATE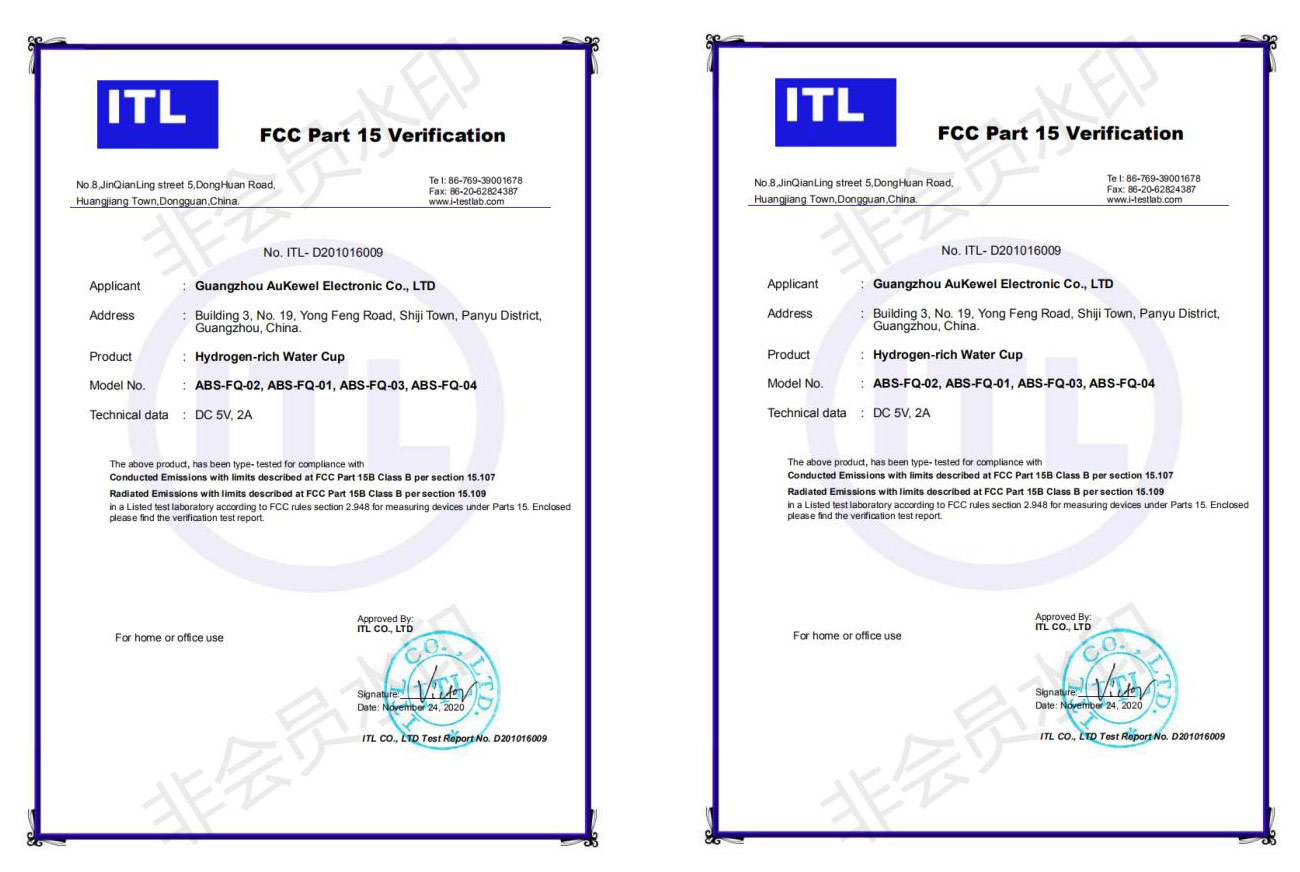 WHY NEED IT &WHO NEED IT?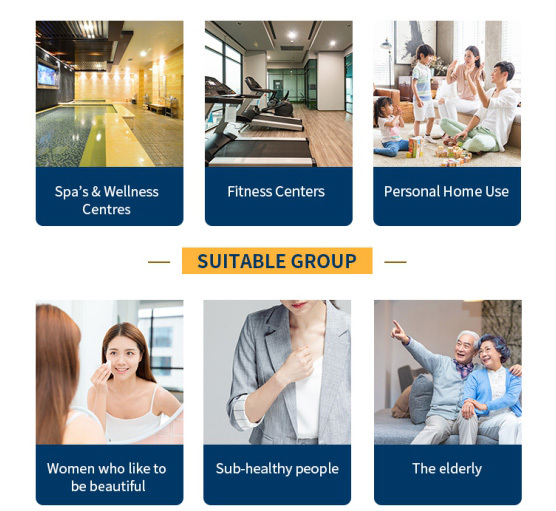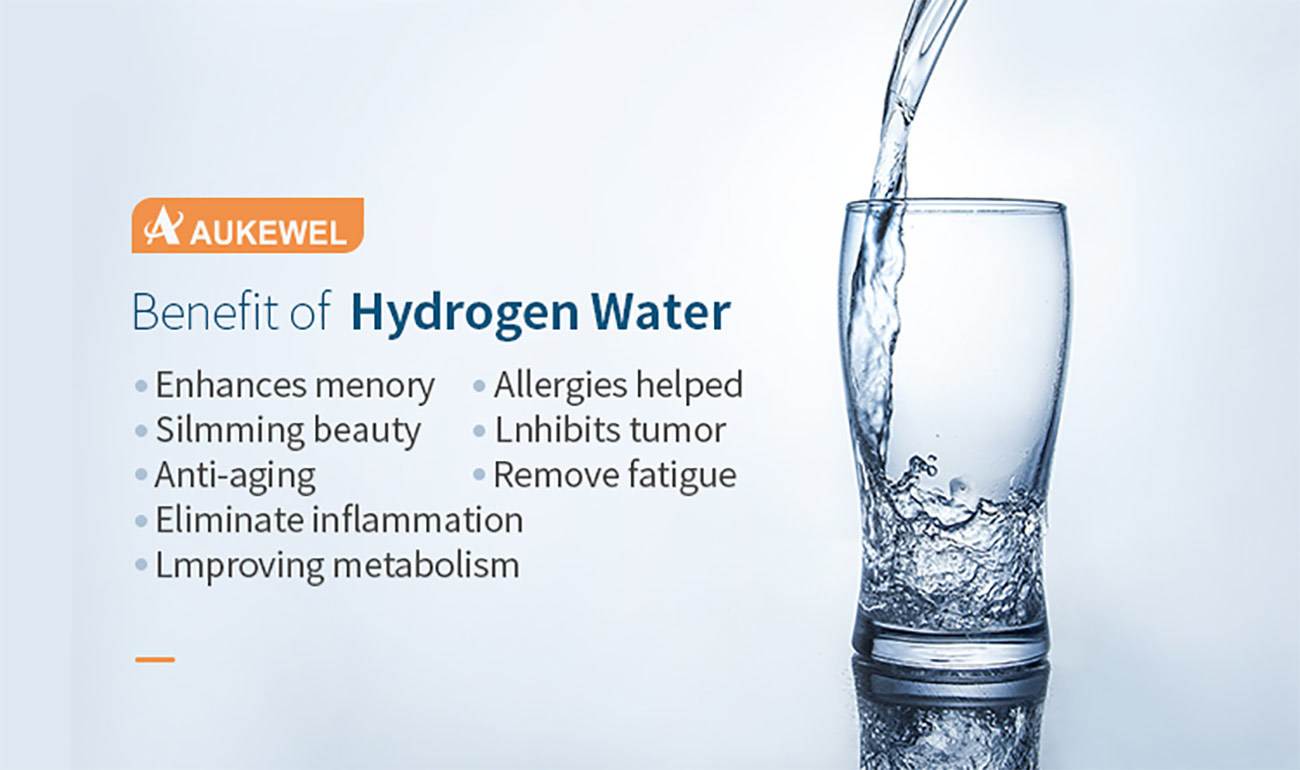 SUITABLE FOR :

The whole family ,special Sleep Less, Inflammation, Indigestion, Sport lover, elder, Office work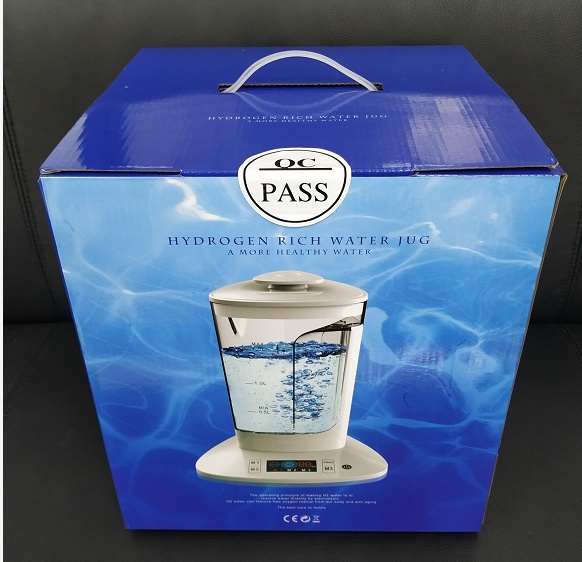 COMPANY PROFILE

About AUKEWEL In 2000, AUKEWEL starts its journey from EMS Tens. Now it has grown to be the leading health care device manufacture in China, Committed to "EFFECTIVE" product for human health is main idea of Design, Manufacture. we produce and sell mainly physical Therapy device and home electronics , focusing on (1) Hydrogen such as hydrogen inhaler, oxygen hydrogen inhaler, hydrogen water bottle, hydrogen water dispenser ,And (2) Wearable Massage such as Shoulder Massage, Foot Massage, Waist Massage(all under R&D) ,Massage Gun. And (3) Sleep Improving Products such as Infrared Mattress,High EMS, And (4) Losing Weight plus improving Sub-health Products such as Body vertical Vibration series, And (5) diabetes therapy , And (6) Pain Relief such as muscle Simulator named TENS , Infrared Lamp , Ultrasound Equipment and Multi Function Electronic Massage and (7)Disinfection liquid maker , total 7 type, 35 models.

We are a High -Tech enterprise with well-developed R&D team and numbers of patents in our products and certificate with ROHS, CE,TUV ISO 13485, ISO9001,FCC, FDA,CMDCAS, Medical CE. We Precipitate the mature physical therepy technology of products such as electrotherapy, magnetic therapy, light therapy, ultrasound, infrared.

Throughout these years, AUKEWEL has been working endlessly to expand our international markets. By the end of 2020, AUKEWEL has completed 50+ real global market. Our innovative design, cutting edge of technology, careful craftsmanship, and responsive service have been greatly recognized by the end users, our dealers and project partners worldwide. If you want to know more details, please send us an inquiry and we will contact you in 1 working days.
MORE DETAIL
MORE DETAIL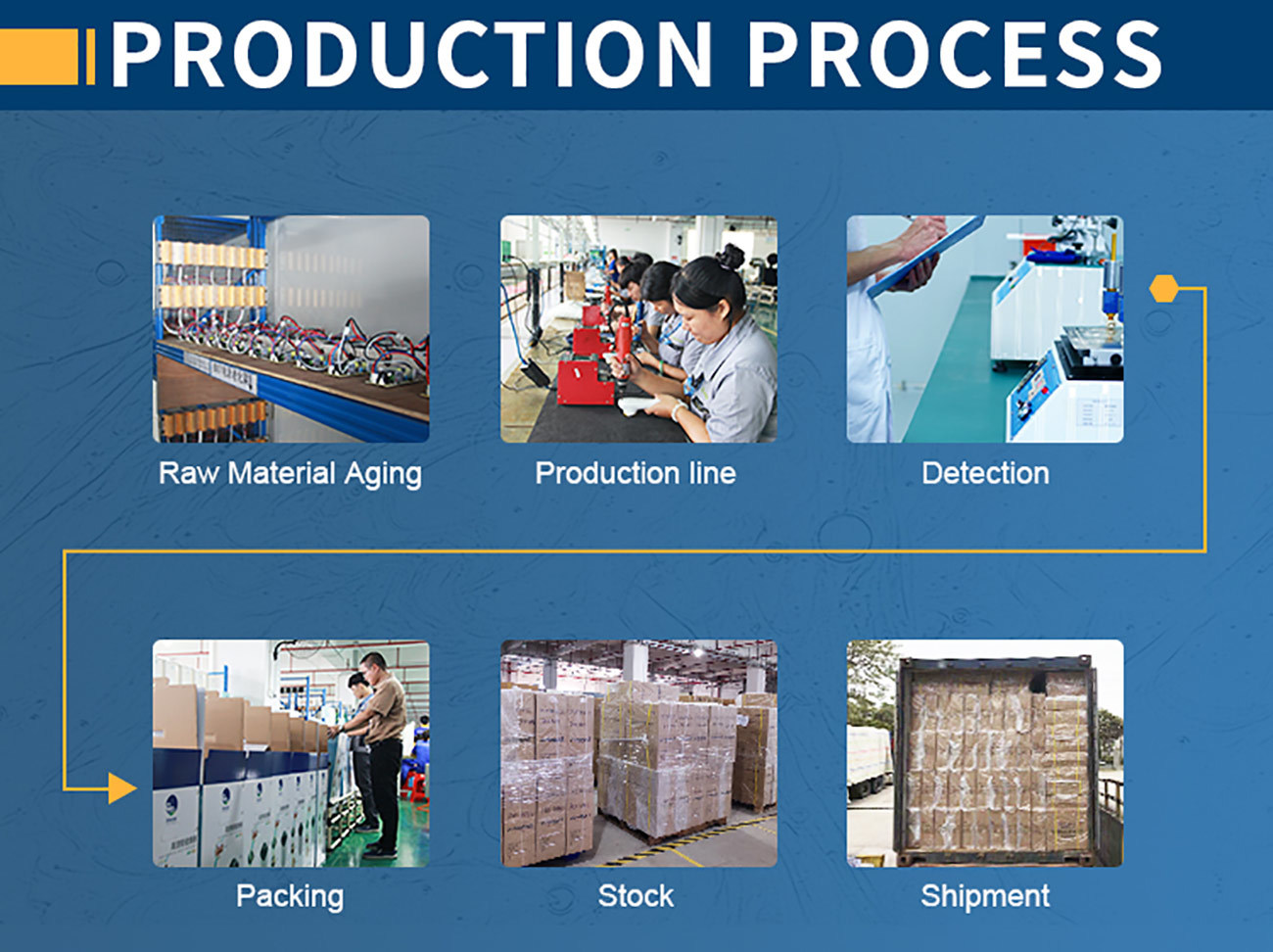 MORE DETAIL(2)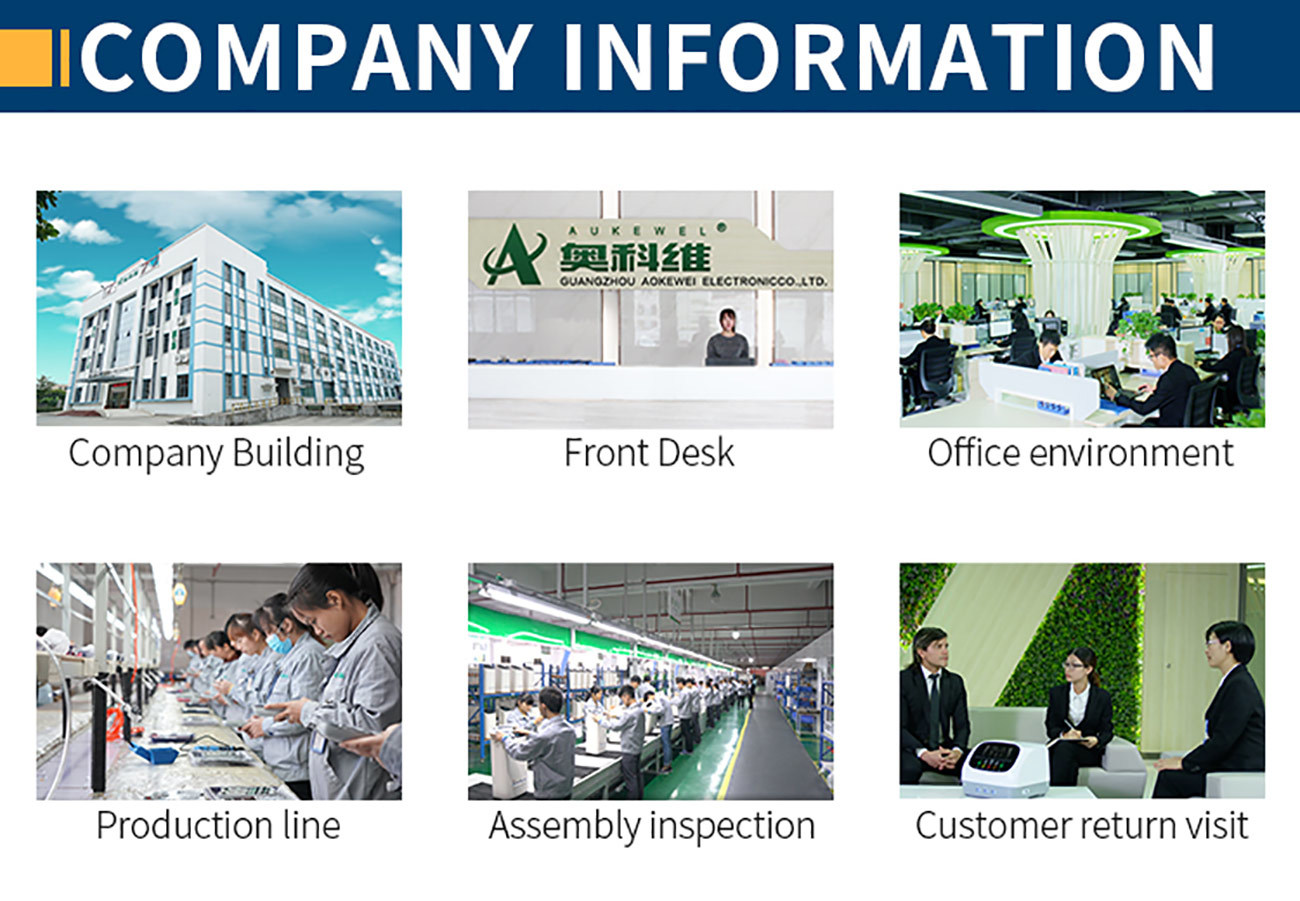 MORE DETAIL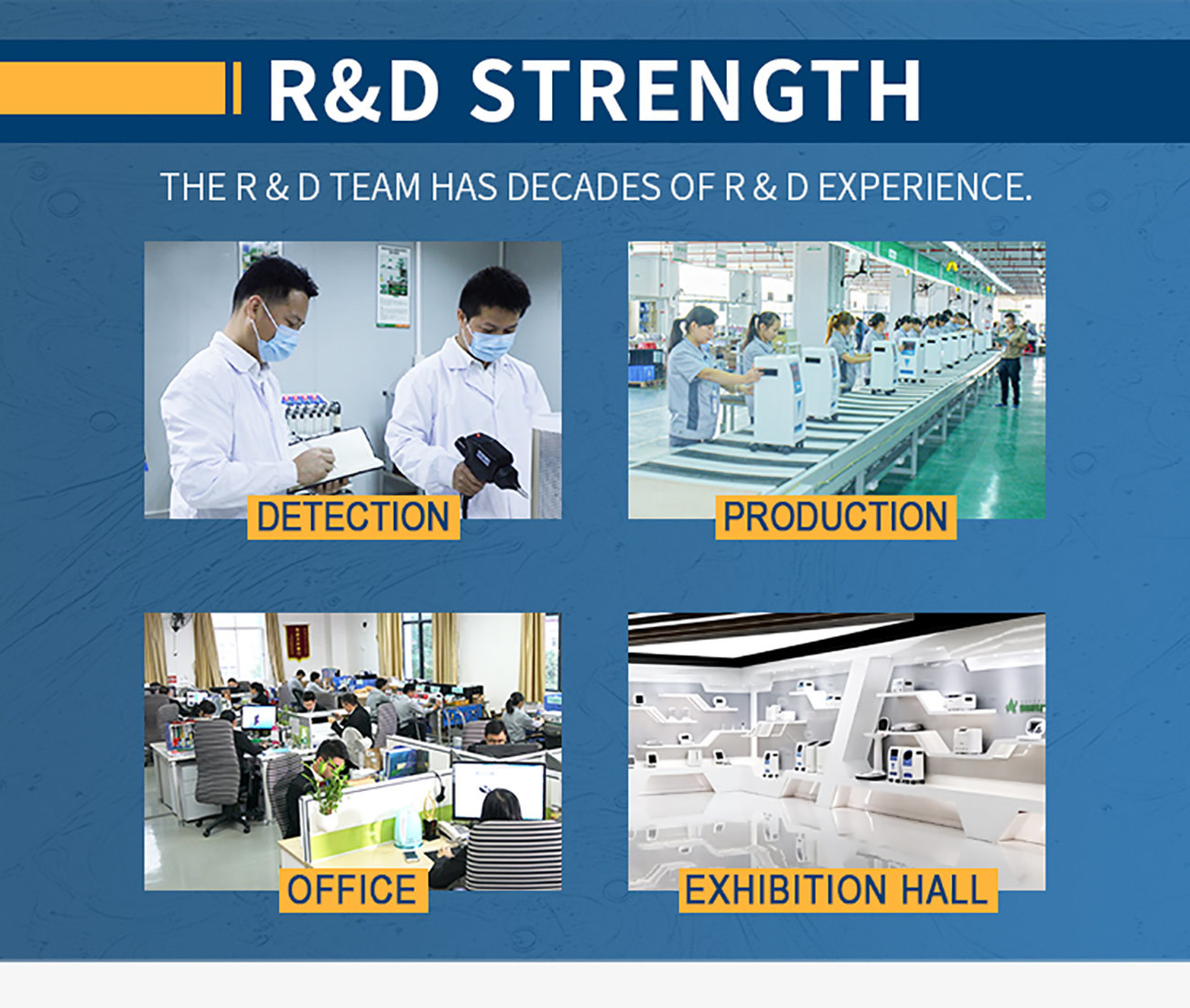 EXHIBITION& FAIR

We attend China import &Export Fair for 40times, 20years since 2000.
We attend International Exhibitions since 2010.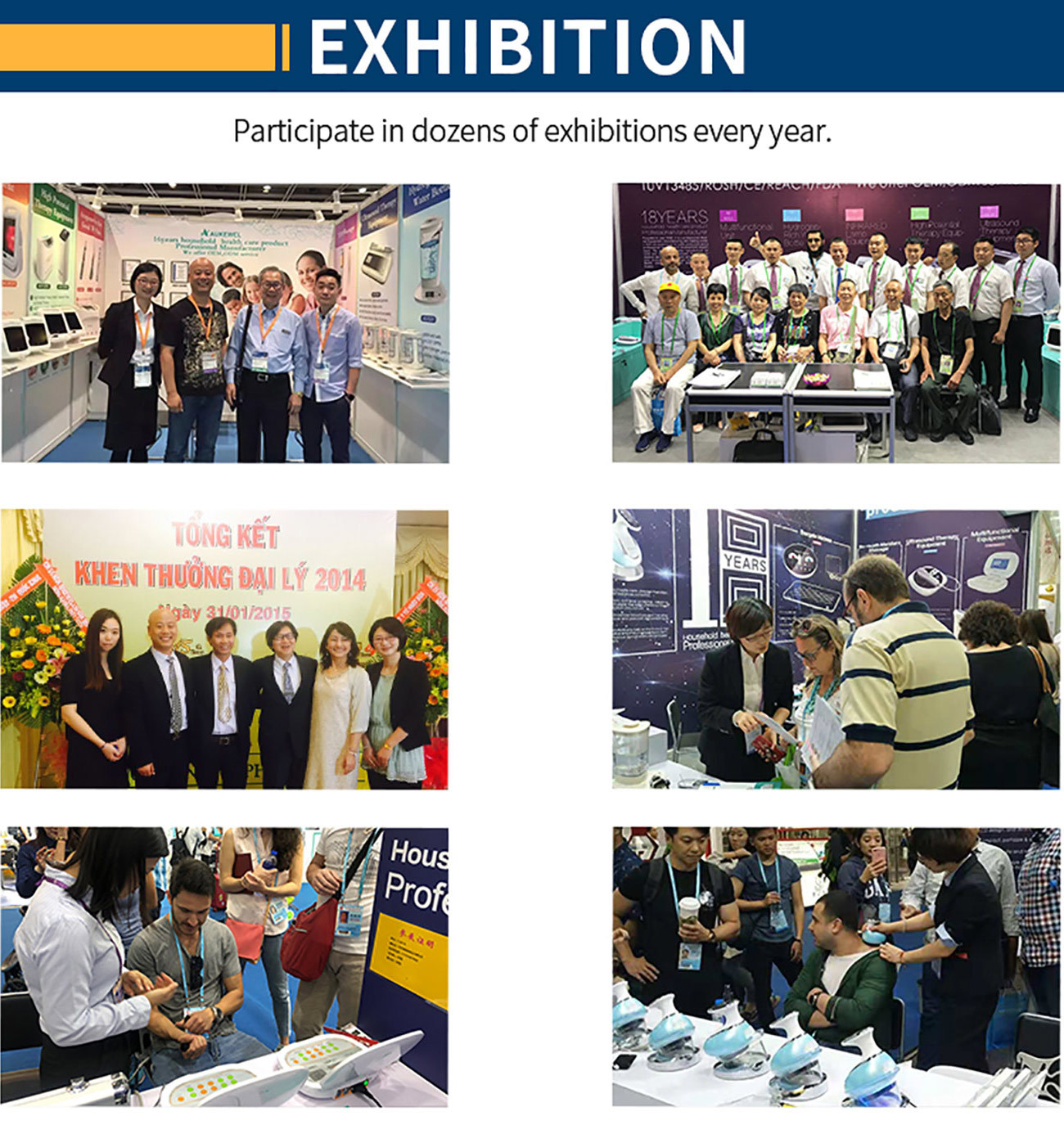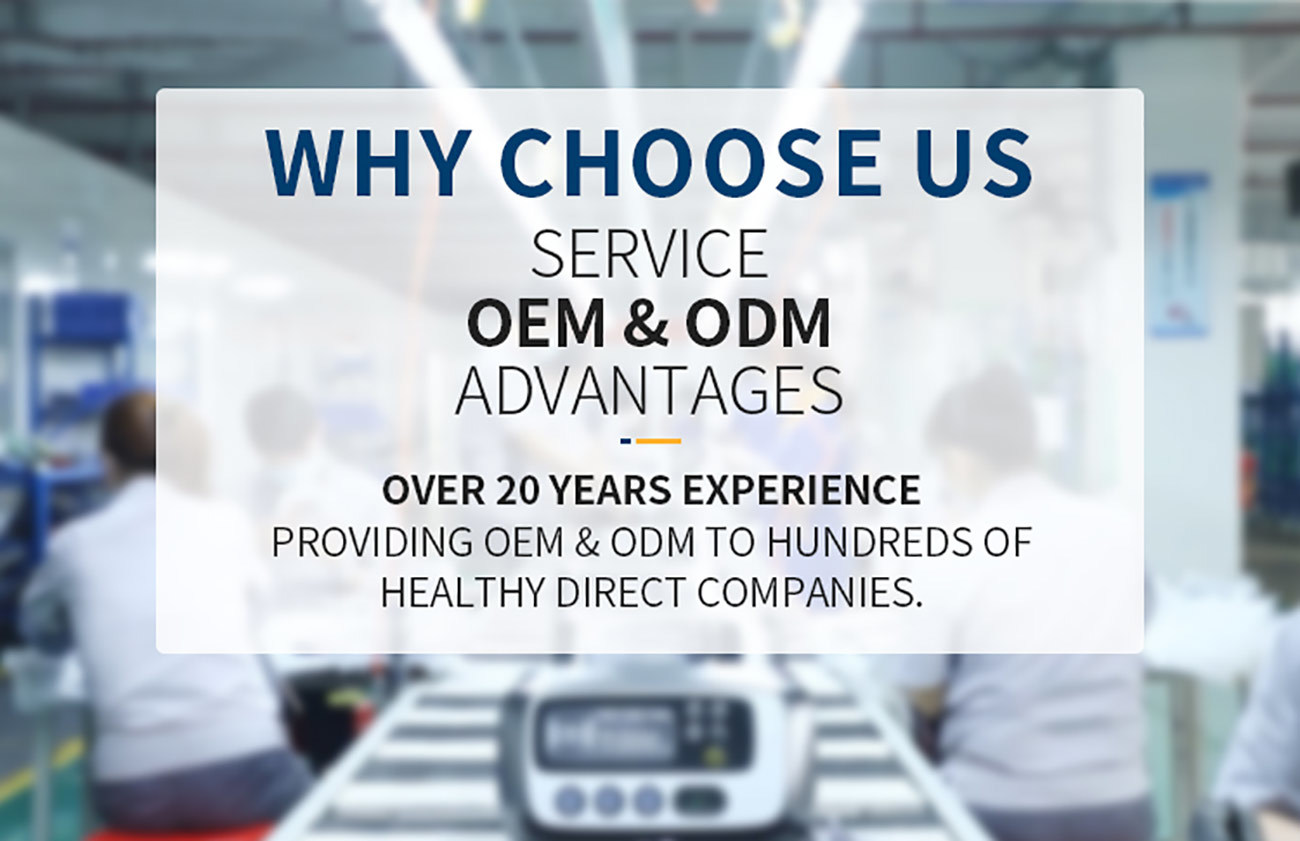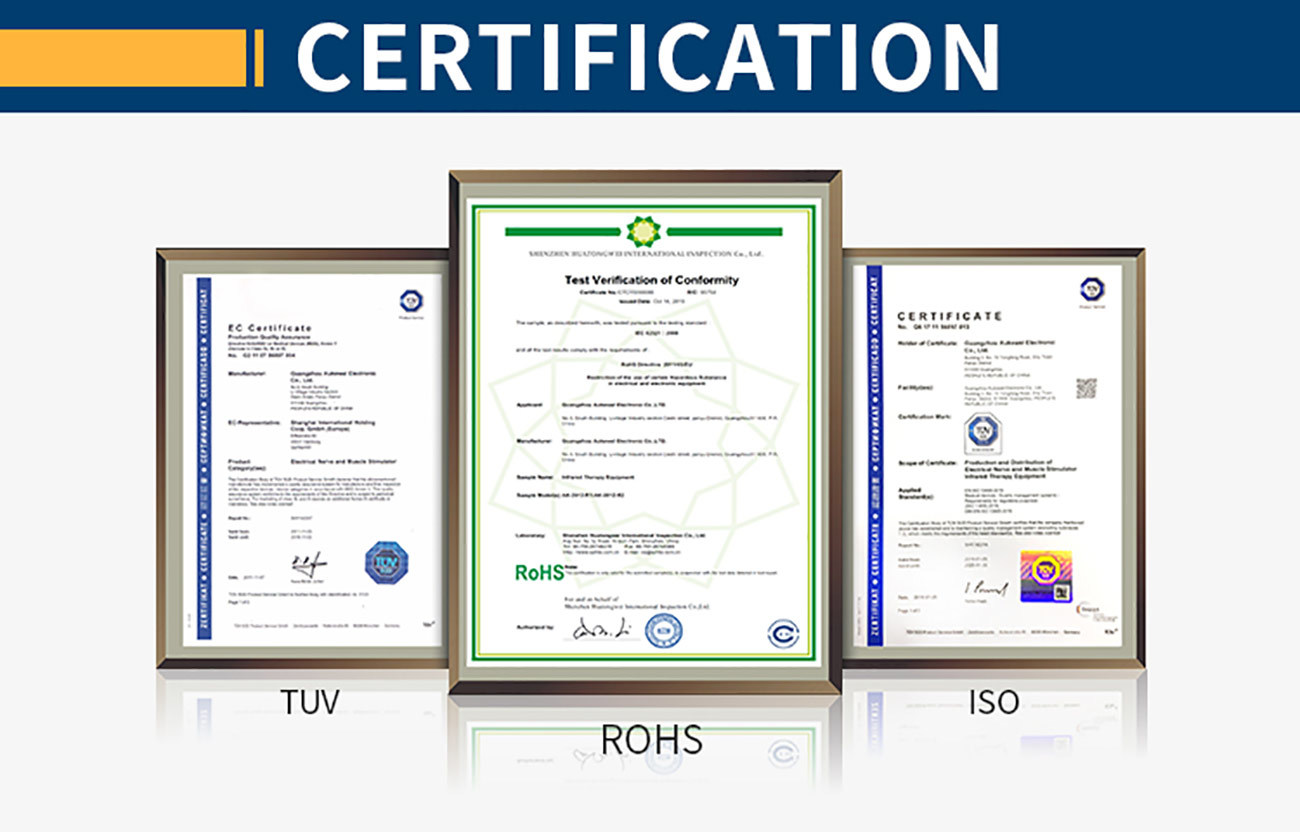 The hydrogen water generator offered by Aokewei is an innovative and efficient solution for producing high-quality hydrogen-rich water. With advanced technology and exceptional features, this generator allows users to enjoy the numerous health benefits of hydrogen water in a convenient and reliable manner.
Equipped with electrolysis technology, this hydrogen water generator produces hydrogen-rich water by separating hydrogen and oxygen atoms in the water molecules. The result is water that contains elevated levels of molecular hydrogen, a powerful antioxidant known for its potential to reduce oxidative stress and promote overall wellness.
One of the key advantages of this hydrogen water generator is its wide range of applications. It is suitable for various industries, including health and wellness, sports, and hospitality. Athletes and fitness enthusiasts can benefit from the enhanced hydration and potential performance improvement that hydrogen water offers. In the hospitality industry, this generator provides a unique and refreshing offering for guests looking for a healthy and rejuvenating beverage option.
The generator's compact and sleek design makes it suitable for both personal and professional use. Its user-friendly interface and intuitive controls allow for easy operation, ensuring a seamless user experience. With its quick and efficient production capabilities, this generator can provide a continuous supply of hydrogen-rich water to meet the demands of individuals and businesses.
Safety is a top priority, and the Aokewei hydrogen water generator incorporates advanced safety features. It has built-in sensors to detect water quality and automatically shut off when needed. The generator is made from high-quality materials that are resistant to corrosion and leakage, ensuring long-lasting durability and reliability.
Moreover, this hydrogen water generator is environmentally friendly. It eliminates the need for single-use plastic bottles, reducing plastic waste and promoting sustainability. By producing hydrogen-rich water on-demand, users can enjoy freshly activated water whenever they need it, without the need for storing or transporting pre-packaged bottles.
In summary, the Aokewei hydrogen water generator offers a convenient and efficient solution for producing hydrogen-rich water. With its wide range of applications, user-friendly design, enhanced safety features, and environmental benefits, this generator is ideal for individuals and businesses seeking to improve their well-being and embrace a sustainable lifestyle. Experience the power of hydrogen water with the Aokewei hydrogen water generator.
QR code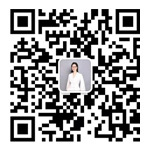 WeChat

Add: No.19, Yongfeng Road, Yongshan village, Shiqi, Panyu District, Guangzhou
